Don't let the natural elements ruin your seeding. McGough's carries a variety of erosion control and mulch blankets that will help keep those areas safe from erosion. Our large selection of sizes and materials make it easy to find exactly what you need to help your land.
EROSION CONTROL BLANKETS
Single Side Erosion Control Blanket
6.5′ x 138.5′ rolls (100 sq yard; 900 sq feet)
EZ STRAW MULCH & BLANKETS
Since 1930, Rhino has been the manufacturer of choice for erosion control products. Made in Michigan.
EZ Straw Erosion Control Blanket
4′ x 56 1/2′ (25 sq yard)
EZ Straw Processed Straw with Tactifier
3 Cubic Foot Bale – 500 sq foot coverage
6″ Wire Staples -1,000/case or 50-packs
6″ Wood Pegs -1,000/case or 40-packs
PennMulch Seed Accelerator
A small pellet containing a starter fertilizer. Once watered, it creates a great barrier mulch for hard-to- grow areas. Bulk or 40 lb bag.
SAND EROSION BAGS
14″ x 26″ with tie. Treated for ultraviolet resistance
WEED FABRIC
DeWitt Pro5 Weed Barrier. Professional-grade.
3′ x 250′, 4′ x 250′, 6′ x 250′ – Homeowner sizes also available
BURLAP
3′ x 250′, 4′ x 250′, 6′ x 250′ – Homeowner sizes also available
ACE OF DIAMOND LAWN EDGING
20′ Sections – Includes Stakes & Knurled Connector. Commercial-grade.
---
Landscaping Supplies
If your backyard is your pride and joy and your home's curb appeal is the envy of all your neighbors, you know that a beautiful yard does not take care of itself. At McGough's, we offer commonly used landscaping supplies. From pruning tools to spreaders, hoses, and sprayers, we have the supplies you need to get your projects started and keep your landscape beds maintained.
Spreaders and Sprayers
Sprayers
A lawn and garden sprayer is a staple to have for controlling weeds, spraying for pests, fertilizing and cleaning, as well as countless other uses.  Compressed air sprayers in 1, 2, and 3 gallon stocked, as well as 4 gallon backpack sprayers.
Hand-held and hose-end sprayers also available
spreaders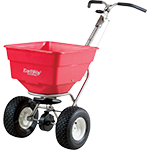 Spreaders
EarthWay® designs, engineers, and manufactures high quality lawn and garden products used by homeowners and professionals alike worldwide. The EarthWay®EV-N-SPRED® brand is recognized as a leader in broadcast spreading throughout the fertilizer, seed, and lawn and garden industries.  Several residential broadcast spreaders stocked and available in the box or fully assembled. Also available:
Earthway Bag Spreader
Chapin Chest Spreader
Chapin Bag Spreader
Earthway Hand Spreader
Sprinklers & Hoses
Hoses
Sprinklers
Founded in 1946, Melnor® has a long history of innovating lawn and garden watering products. Our first big step came early, with the introduction of the first successful oscillating sprinkler for the home market. Over the years we have put our own twist on watering tools. We look forward to continuing our tradition of helping homeowners grow healthy lawns, vibrant flowers and bountiful gardens for many years to come.
Sprinkling cans, galvanized & plastic, also available
Hoses and Nozzles
USA made Gilmour hoses available in a variety of sizes (25-75 ft) and grades, ranging from Medium, Heavy & Premium. Soaker and Sprinkler hoses as well as splitters and connectors also stocked.
Nozzles and wands from Melnor are available in season.
Landscaping Tools
Rakes & Shovels
Landcape rakes
Garden rakes
Leaf rakes
Shovels
Spades
Grain scoops
Pitchforks
Snow shovels and ice spuds
Pruning Tools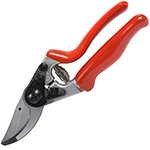 FELCO
FELCO, the world-leading manufacturer of pruning shears since 1945.   Models 2, 4, & 5 stocked.
Corona
Corona, Inc. is a leader in the marketing and manufacturing of professional and consumer tools for the lawn and garden, landscape, irrigation, construction and agriculture markets. Corona's proven designs, quality manufacturing processes and unparalleled customer service make it the best choice in tools for contractors, agricultural professionals and avid gardeners alike. Tools stocked:
Pruning shears
Anvil pruners
Hedge shears
Loppers
Pruning saws